News

Mistrust among the TPLF regime's Army members deepening, Say defecting soldiers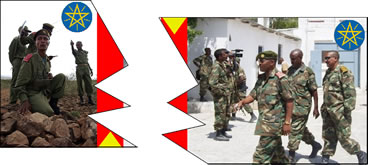 6 March 2009
Defecting Ethiopian soldiers who arrived in Eritrea recently abandoning the TPLF regime disclosed that distrust among the regime's Army members is deepening from time to time due to the regime's racist policy.

They stated that the rights of Army members are decided on the basis of racial discrimination, and as a result the deepening mistrust has reached the climax.

The defecting soldiers who arrived here are Abdelhakim Dahir from the Somali ethnic group, Sultan Belachew from the Siltie ethnic group and Adie Abdelkerim Abdi from the Somali ethnic group.

Source: Shabait.com


Opinions published on News and Views section of this site are those of the authors and not necessarily that of OLF.