News

Ghion hotel & International Beauties join demand for over due payments from Woyane Ministry of Culture and Tourism

March 13,2009
The winners of Ethiopian Millennium Pageant and State owned Ghion hotel have now joined the queue and chorus in the escalating row over past due payments and are also demanding to be paid for the Millennium Pageant held in October 2007 under the direction of State Minister for Culture and Tourism: Mohamuda Ahmed Gass, who has left a long trail of unpaid debts in his wake since 2007 after extensively obtaining the services on credit and misusing official instruments of the Ethiopian government, i.e Official letter heads and his position as State Minister to issue official guarantees to obtain services on credit and promises to pay for the event that was supposed to be a positive enhancement for Ethiopia's poor international image.
The winning Beauty queens were never paid or given any of their prizes, and many are still even to this day still owed money for their Air tickets to Ethiopia, they were told to buy their tickets and promised by State Minister for Culture and Tourism: Mohamuda Ahmed Gass that they would be fully reimbursed once they got to Ethiopia, but on arrival in Ethiopia apparently Mohamuda Gass and the local partner: Aklilu Telwelde of Ezana Entertainment deliberately delayed paying them in hard currency until the very last minute, and instead would try to give them about 9000 birr instead of US$950, just a few hours before they were due to leave Ethiopia, knowing fully well they could not take Ethiopian currency out of the country.
Several of the girls were thus forced to go to the local black market to change their Ethiopian money into hard currency, a very dangerous practice for them until the main organiser insisted that all the girls must be paid in hard currency and not exposed to danger by going to Illegal black markets.
Aklilu Tewelde of Ezana Entertainment the local partner would deliberately go AWOL and arrive hours after he thought the girls had left for the airport, in one instance Miss Argentina Gisselle Fuentes [photo] refused point-blank to leave Ethiopia until she got her money in hard currency and even changed her flight, but 18 months later she is still owed US$450, Miss Bahamas is owed over US$900, Miss Brazil over US$900, and the list goes on, and this is a big shame for Ethiopian Ministry of Culture to do this to these girls who came to experience Ethiopian hospitality only to be deceived and conned by the Ministry of culture and Tourism, how is it possible for the Minisitry of Culture and Tourism to make such a huge mess of coordinationg just 37 Queens visiting Ethiopia? and this is why this event will sadly never return to Ethiopia again.
Miss Venezuela the winner was never paid her token prize of just US$5000, nor was the runner up Miss Costa Rica: Silvana Sánchez Jiménez paid her prize of US$2000, Miss Tourism Congo: Katissa Kouta, Miss South Africa, Palesa Makwa also did not get their US$1000 prizes from the Ethiopian Ministry of Culture & Tourism and Mohamouda Gass who simply said "that can all be pending, we have no money"
Ghion hotel recently warned and took the Ministry of Culture and Tourism court over it outstanding debts for lodging services provided to the Ministry in October 2007 for the visiting beauties amounting to over 741,000 ET Birr and apparently got an order from the Federal court to pay the money and additional interest of 9% but apparently the Ministry has still not paid them, see newspaper article attached
What is shocking is the belligerent attitude to the whole affair by the Ethiopian Ministry of Culture and Tourism to say they had a budget deficit despite it being held in 2007 and they have to date made no attempt to pay a single penny since 2007, claiming a budget deficit, blaming Sheik Al amoudi and every other convenient excuses they can come up with.
The State Minister at the center of this fiasco: Ato Mohamouda Ahmed Gass has surprisingly simply continued to collect his State Ministerial salary and benefits, keep his plush office and drive around Ethiopia in his official big car since October 2007 to date, while everybody else who came to Ethiopia and made huge positive contributions towards enhancing Ethiopia's International Image have all been left out of pocket since October 2007, with no attempt to settle this matter honorably or in a timely manner, we have repeatedly asked State Minister : Ato Mohamouda Ahmed Gass to act honorably and with integrity and settle this matter over the last 18 months but his response has always been simply to give us more excuses, and finally say: "don't contact me again" all of which we have documented and will be making public shortly.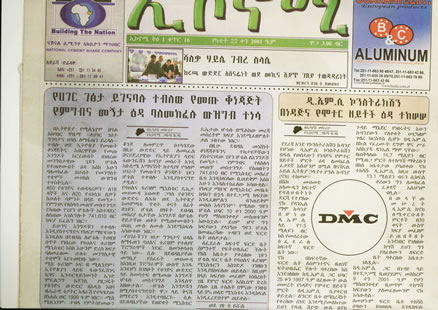 ******

OPEN LETTER TO
THE MINISTRY OF CULTURE & TOURISM
Ato Mohammed Dirir,
Minister Of Culture and Tourism
Addis Ababa
Ethiopia
We have resorted to this open letter since both you and your State Minister: Mohamoda Ahmed Gass, will not respond to any attempts to discuss or settle this very serious matter in private since December 2007 . .This letter may be freely distributed.
Your Excellency
I write as a final reminder that all fess and production costs due to us, pursuant to an informal written guarantee issued by your State Minister Mohamoda Gass, for the hosting of Miss Tourism of the Millennium that we produced for Ethiopia 18 months ago and whcie were dueu for settlement on 3rd December 2007 still remain unpaid and unsettled by your Ministry, For 18 months since the event took place we have been waiting for your Ministry to settle this matter and honour your obligations honourably and with Integrity, but instead your Ministry has for 18 months deliberately chosen to ignore it's financial obligations because apparently we do not live in Ethiopia and are a foreign company, and instead has resorted to blaming everyone you can for not being able to settle this matter honorable as agreed.

Sir, it has now been 18 months and counting since we Organised this event for the benefit of your Country ,Government and most especially your countries New Millennium Celebrations in October 2007, we invested and spent our hard earned money on Trust believing your Ministry to be trustworthy and Ethical in its conduct of business, but instead and to date not one single penny was ever paid for this event and our Production costs were never reimbursed, your Ministry set up an Elaborate Organising committee that featured several government ministries such as
MINISTRY OF FOREIGN AFFAIRS
MINISTRY OF INFORMATION
MINISTRY OF TRADE AND INDUSTRY
FEDERAL POLICE
ADDIS ABABA CHAMBER OF COMMERCE
ETHIOPIAN AIRLINES etc
And collected 1.8 million Et birr from
ETHIOPIAN TELECOMMUNICATION
ETHIOPIAN SHIPPING LINES
COMMERCIAL BANK OF ETHIOPIA
ETHIOPIAN HORTICULTURAL ASSOCIATION
ETHIOPIAN COFFEES ASSOCIATION
ETHIOPIAN ELECTRIC POWER
ADDIS ABABA SECTORIAL ASSOCIATION
ADDIS ABABA CHAMBER OF COMMERCE
and others supposedly as sponsorship fees payable to us and in the name of Miss Tourism of the Millennium event, this money was due to be paid to us for the promotional services we provided by Bringing this event to Ethiopia, but instead every single penny of this money simply disappeared under your ministries control and 18 months later we have not seen a penny.

I am not sure if your ministry is now designated as commercial enterprise or business, where it "Collects money for International Beauty Pageants and keeps it?" nor does the Ministry of Culture and Tourism under your control have any right or mandate to obtain any service from anybody and then refuse to pay for it latter by simply claiming "We don't have any money" in law that is known as obtaining "Services by Deception" and abusue of officie or fraudulent behaviour, but maybe there was a new proclamation in Ethiopia mandating the Ministry of Culture and Tourism under your control to do this that we were not aware of? In any case I also question if Ministry of Culture and Tourism ever paid any taxes on the 1.8 million birr or on any other revenue, it collected as a direct result of the event, but never paid to us, or is Ministry of Culture and Tourism also immune from public accounting and or taxation of revenue? The questions just seem to keep mounting up

Sir, after 18 months and counting we feel it is high time you did the honourable and responsible thing, step-up to the plate, and honour all your Ministries financial obligations to us. it is not our desire to take the Ministry of Culture and Tourism or this matter to court, nor is it in your Governments interest to be in the dock over such a matter concerning integrity and honesty, after 18 Months, we have been patient enough and simply ask you to display a level of Professional behaviour, honour and ethics commensurate with your position as a Government Minister, and settle this matter once and for all, there is no reason why Ministry of Culture and Tourism under your control have not paid anything even if according to your State Minster: "Sheik Al Amoudi promised and then failed to help you pay some of the costs", you know fully well we never had any discussions or agreement with the Sheik, and as far as we know the Sheik is not part of the Ministry of Culture and Tourism, so Sheik Al Amoudi's promise [ or not, .... we don't know] should never be used as any excuse for the Ministry of Culture and Tourism failure to honour its financial obligations 18 months later. the Ministry of Culture and Tourism is a federally funded Ministry of the Democratic Republic of Ethiopia ,fully under your control and not an extension of Sheik Al Amoudi's business empire.

· Fact: We executed the Project for the Ethiopian Government and People under instructions and a Written Guarantee issued by the Ministry of Culture and Tourism under your control 18 months ago [ not by Shehik Al Amoudi ]
· Fact You are the Minister in charge of the Ministry of Culture and Tourism, and cannot tell us you don't know anything about this event or your Ministries outstanding obligations to us.
· Fact: Once the event took place the Ministry of Culture and Tourism under your control has so far refused to pay the any of hosting cost or even the prizes to the winners, in short you have not pais a single penny for this event since 2007 you have instead given every excuse under the sun.
· Fact: the Ministry of Culture and Tourism under your control did not pay a single penny to us since 2007 for organising this preferring to claime a budget deficit, and other excuses, all Agreements entered into by you minisitirty even Informal and formal and legally enforcacable
· Fact: We will initiate Legal proceeding if the Ministry of Culture and Tourism continues to ignore the Ministry of Culture and Tourism's obligation to us and settle this matter Honourably
· Fact: You and other Government minsters we only to happy to attend press conferences and be VIP's pose for photos, crowning the girls with Crowns and sashes that none of paid for, I attach photos as a reminder in case after 18 months you need your memory to be jogged

With all these facts in mind one would respectfully ask how you and your state Minister Mohamouda Gass can sleep well at night and then carry on Business the next day for over 18 months as normal, knowing fully well in spite of the Grand event we produced for your Countries Millennium, what you have done since then is to say the least highly unethical? Is it also any wonder that this event has not returned to Ethiopia, and no such event will ever return to Ethiopia, if this is how The Ministry of Culture and Tourism conducts Business with the international Community.
Mohamouda Gass your state Minister Mohamouda Gass even flew to London England met with me in 2007 and introduced me to the Ethiopian Ambassador to UK and Mohamouda Gass gave his word and gurantee regarding Paying for this event but till now your Administration is not wiling to pay us a single penny after geting the servicce

In spite of the wonderful Global platform for the promotion of Ethiopian Culture and Tourism we presented to The Ministry of Culture and Tourism, your subordinate State Minister and staff have killed it of, buy abuse of Office and trust, and surprisingly despite your capacity as the head of the Ministry of Culture and Tourism, you stand by and just say you don't know what is going on, and refuse to take any responsibility or initiate any steps to resolve this outstanding issue?

Is it any wonder how Miss World and Miss Universe have been going strong for over 50 years, but the one time an International beauty pageant was held in Ethiopia for the first time in History it was killed of by a combination of Greed, short sightedness, deliberate financial mismanagement and gross incompetence by very Ministry that is mandated to promote Ethiopian Culture Tourism, maybe The Ministry of Culture and Tourism have something bigger in the pipe line for 2009, but if The Ministry of Culture and Tourism can't honestly handle just 37 International beauty Queens coming to Ethiopia to celebrate your Millennium without making a such big mess of it where 18 months later The Ministry of Culture and Tourism have not paid a penny and instead chooses to cry poverty, It is sincerely doubtful that the Ministry of Culture and Tourism can manage anything bigger. may I respectfully point out that this is the reason this event was not held in Ethiopia again last year. Poverty is not a badge one wears with pride or delight.

Once again we call on you to respect your position as an Ethiopian Government Minister and act with the highest amount of Ethics, Integrity and honour that comes with such a position, business must always be conducted at the highest level of transparency and ethics.

The Ministry of Culture and Tourism is not staffed with Taxi drivers and Shoe shine boys all used to and looking to Hustle foreigners out of their money and make a quick buck off them, so kindly see that this matter is settled without any further excuses or delays or the need to go to litigation Enough is enough and enough respect and patience has been given to The Ministry of Culture and Tourism to settle this matter. ignoring all our communications will simply not suffice anymore.

Budget deficit or not, there is no reason why since 2007 and 18 months later The Ministry of Culture and Tourism has not paid us even a single penny unless, The Ministry of Culture and Tourism and your State Minister never intended to pay for the service in the first place, and this was a just carefully planned elaborate deception all along.

Opinions published on News and Views section of this site are those of the authors and not necessarily that of OLF.