News

Another Oromo-Gumuz Conflict Concocted by the TPLF Regime in Western Oromia: Three Oromos Abducted by Gumuz

(OLF News, March 16, 2009) OLF News correspondent reported from Western Oromia that the TPLF Woyane regime has completed its preparation of creating conflict among the Oromo and Gumuz people for the second time in Western Oromia and have already sent Gumuz fighters to attack Oromos. Accordingly, about 400 well trained and armed Gumuz fighters have entered into Eastern Wallaggaa zone, Limmu Galiilaa district in a village known as Lalisaa Suggee and opened gun fire on unarmed population of the village.
On this incident, the following Oromo farmers have been abducted by these armed Gumuz fighters:
Mr. Garramuu Ayyaanaa
Mr. Damusoo Waaqjiraa
Mr. Jaallataa Buraayyuu
and their where about are unknown. Considering the atrocities the Gumuz fighters have made on the Oromos during the first such conflict in 2008, it is very unlikely that these abducted individuals will be returned to their homes alive. To avoid more damage and bloodshed, the Oromo nationalists in the area warned that the Oromo people in that vicinity should take extra care, organize themselves and support and protect each other. More over, the Oromo nationalist also cautioned the Gumuz people not to fall into the trap of the current Wayyaanee regime who will definitely fall down one way or another, and choose the enmity of the great Oromo nation who have been living in harmony with the Gumuz people for generations.
It is to be recalled that about 400 Oromo civilians were killed and over 12, 0000 left their homes when armed forces of Benishangul Gumuz suddenly attacked unprepared civilian Oromos in the same area of Western Oromia, Eastern Wallaggaa zone in May of 2008.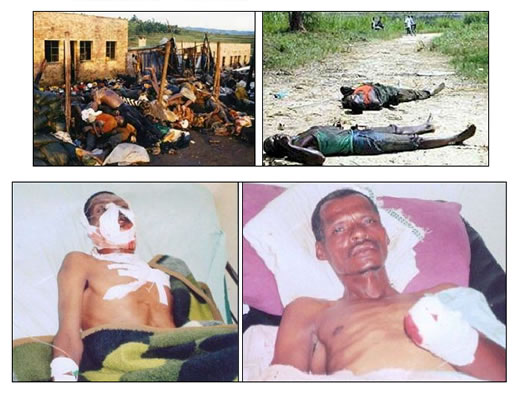 The massacre of 2008 was reported to have started when a well trained and armed neighboring Gumuz tribe militia crossed over from their regional state of Benishangul Gumuz state to Oromia state and attacked villages before day break leaving hundreds of farmers dead and thousands more internally displaced.
It is an unforgettable incident that many of the reports of the 2008 massacre were shockingly and incredibly barbaric. For instance an appeal from the Oromo Parliamentarians Council to the UN General Secretary states:
"The invaders' actions include mutilation of body parts (arms, legs, other organs of children, breasts of women, male genitals), throat cutting and slaughtering, burning down of housings and other properties, looting of properties including animals, raping of women and children, and burning of dead bodies in masses, to make access to information impossible. Very disturbingly, the invaders seriously target the male section of the society. They also snatch infant babies from mothers' backs and kill, only to force the mothers to eat the flesh of their own babies."
OLF News

Opinions published on News and Views section of this site are those of the authors and not necessarily that of OLF.